CLIENT
Auric Sunshine
PROJECT
Helping a local favourite to rise above the rest
DISCIPLINE
Product Brand Architecture, Packaging Design
Founded in 1930, Sunshine was Singapore's first commercial bakery, growing to become one of the country's leading manufacturers. But over the years, consumer tastes and health priorities changed. The brand was losing ground as new mass-market and niche players entered the category. Sunshine had to restore its faded equity, refresh its purpose and rise above the competition.
Read more
The task for Sunshine was twofold: revitalise existing brand elements that Singaporeans held dear and that speak of heritage, authenticity and taste, while transforming the packaging and on-shelf presence to create powerful shelf blocks that would act as 'billboard brand magnets' at retail.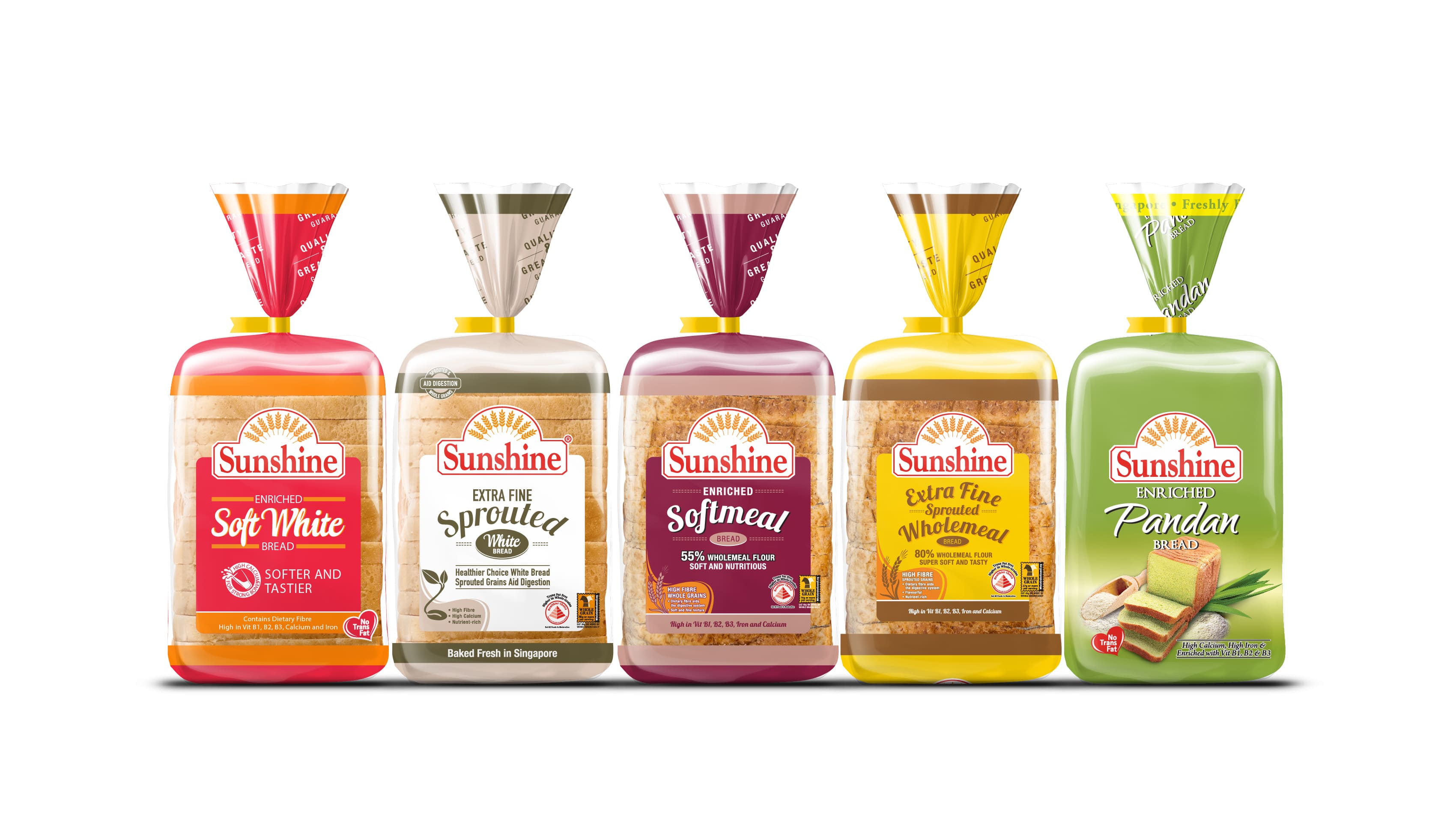 An extensive audit of the bread and baked goods category identified untapped opportunities for Sunshine, while an ethnographic analysis of shoppers helped us to understand the purchase and decision-making criteria.
Read more
Our starting point for design was a meticulous 'renovation' of the Sunshine brandmark. Its elements of wheat, sunshine and the bread were contemporised and infused with warmth and light. The brand now has greater visibility, is easier to read and is more appetising at the place it needs to work hardest, on shelf.
This new brandmark then became the centrepiece of Sunshine's portfolio architecture and packaging overhaul designed to accommodate both existing variants and development into other specific nutritional line extensions. The packaging hierarchy was decluttered with a clear colour and variant strategy, enhanced callout of nutritional benefits and an ingenious use of wheat-shaped windows in the packaging to underline the product's integrity.
The modernisation of its packaging helped Sunshine restore brand relevance and to reassert its leadership position. The refreshed brand elements will also become consistent features of an innovation and line extension strategy that will take Sunshine successfully into new and valuable segments of fresh and frozen baked goods. Refreshing the Sunshine identity system ensures the brand will continue to play a prominent role in the hearts and homes of Singaporeans for years to come.